Established in the year 2003, MEIXIN is keenly engrossed in Manufacturing and Suppliers of a broad gamut of the 2-5axis household and industrial brush and broom machines,trimming and flagging machines, pneumatic cutting machine. All our offered products are precisely manufactured and designed as per the set quality norms by employing quality approved material and modern technology under the regulation of quality administrators. The product collection is comprehensively acknowledged and known in market due to their unique characteristics such as precise dimension, perfect finish, tamper proof, sturdy design and durability. Along with this, we provide our products in varied dimensions to serve diverse necessity of industry at pocket-friendly rates.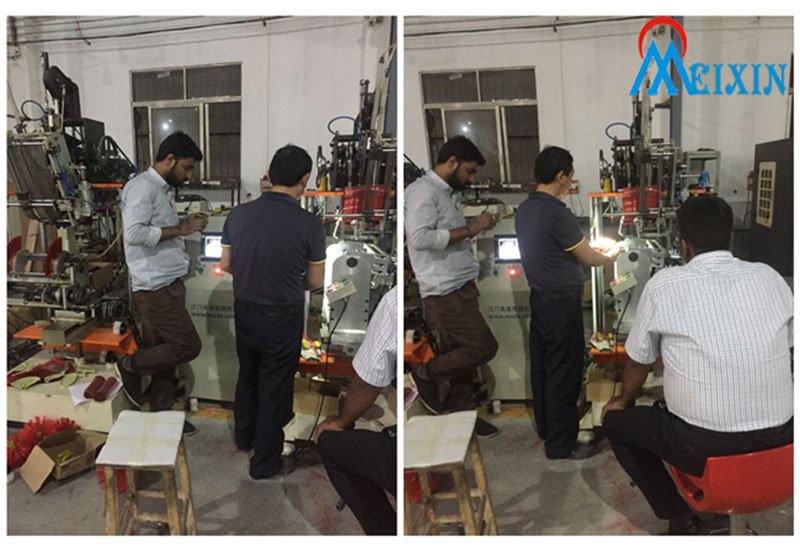 From the very beginning, we are engaged in constant enhancement and maintenance of international quality standards in our machinery and technology. Designed to satisfy the expectations of our valued clients, our durable products have helped us in earning the respect and goodwill of our clients. Our endeavors to continuously interact with our customers have allowed us to customize our range in strict accordance with the particular operational requirements of our clients.

Therefore, we afford a series of training lessons which aim to provide assistance to Pakistan's customer that wish to have their staff trained in using 4 axis ceiling brush machine that would be useful to their business. New technologies include those which are not widely applied in Pakistan and the absorption and application of which will significantly benefit Pakistan.

Meanwhile, we are supported by an up-to-date infrastructure, which assists us to meet the urgent & bulk necessities of customers within the dedicated time. Our infrastructure is we with the progressive tools, technology, machinery and instruments that are important for executing manufacturing process precisely and smoothly. It is managed by a team of skilled personnel, who have years of considerate and thorough information in their relevant fields. Our personnel use all the available resources for making the products as per the requirements and demands of patrons.

Besides this, we also have high technology for efficient design and development in our In-house design unit. So as to acquire perfect knowledge about the market and its ever changing demands, we have set up a state-of-the-art R & D division run by a highly qualified and dedicated team of professionals. Our well produced products are further provided adequate packing so that they reach the client.

We are absolutely sure of the quality we are providing to our customers for the products that includes the 2-5axis household and industrial brush and broom machines,trimming and flagging machines, pneumatic cutting machine etc. For productive testing, we are equipped with testing lab with the modern instruments that are required to guarantee the best quality and on-site functionality of our products. All the quality tests are conducted in our highly developed production unit where our high end products are manufactured.