Quickly check 3 Axis Hockey Brush Tufting Machine MX311 info
2019-02-09
3 Axis Hockey Brush Tufting Machine MX311 is the best-selling product of Meixin.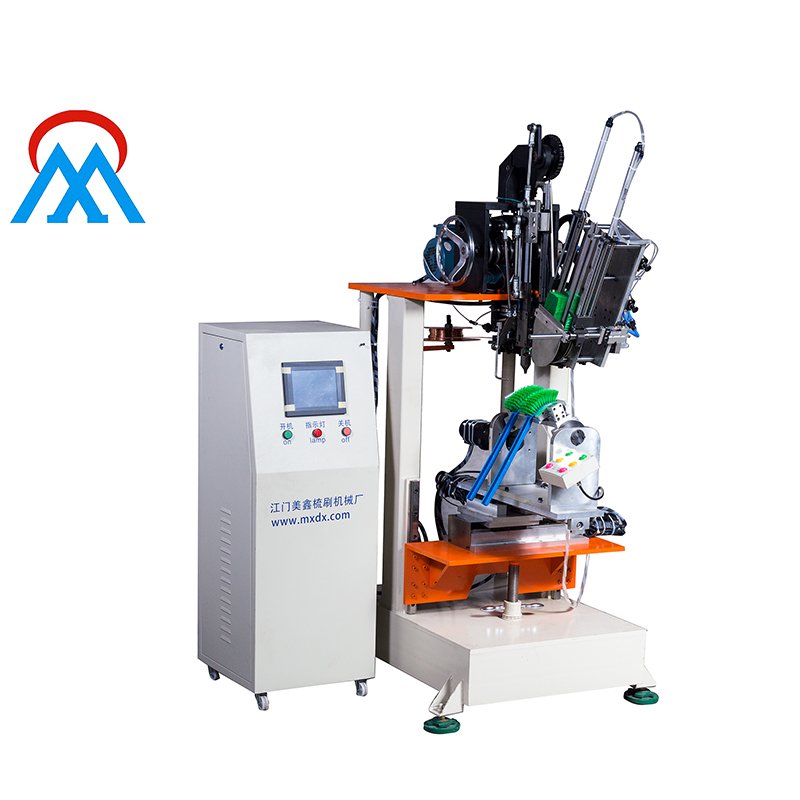 It is made of metal which is environment-friendly, safe and durable for long-term use. Concise structure and high quality is the design principle it adheres to. It is designed in accordance with the national standard. 3 Axis Hockey Brush Tufting Machine MX311 is exquisitely manufactured by state-of-the-art experienced technical . Supported by a.installed with one tufting motor head,high speeding processing,high volume,cost effective b.this machine can produce many different kinds of brushes or brooms which have different filling angles, by changing specific platform c. filament by:round nails or flat nails d. PLC and Touch Panel Control System of Man-Machine, Chinese and English display, simple to understand. e.allow to save as 2000 procedure and easy for the creation of new models f. Wearing parts and spare parts are standardized designs to reduce hair mechanic technology dependence g.our machine can produce either one color two colors or three colors brush, its feature of Low noise making brush tufting machine is greatly acknowledged by customers. 3 Axis Hockey Brush Tufting Machine MX311 is practical for tomakeflatbrush. Certified under Patent Certificate, the quality of 3 Axis Hockey Brush Tufting Machine MX311 is absolutely guaranteed. The product is covered by a One Year-year warranty. We can customize a product perfectly in accordance with your requirements. See more here: http://www.mxbrushmachine.com/brush-machine
Meixin has established itself as a quality supplier in the Brush machine industry. We have been operating for over 14 years. Our company has won the favor of customers from over the world,including India,Vietnamese,Venezuela,Taiwan area,South American and so on. Our business model is firmly established among the product lines of 2 Axis Brush Making Machine,3 Axis Brush Making Machine,4 Axis Brush Making Machine, 5 Axis Brush Making Machine,Brush Trimming Machine,Other Brush Machines, Broom Making Machine,Industrial Brush Machine. Meixin customizes different types of brush machines according to your requirement Meixin is a manufacturer of making machine of brush. Technical service is accessible by Meixin. Professional after-sales service is also provided by Meixin. Meixin has a professional and experienced technical development group. Meixin has made a wide range of recognition and excellent reputation in the market. Meixin has established trade relations with customers from India, South American and so on. Meixin built a factory to suit the development of the company, which covers over 8000㎡. Meixin has done a lot to raise quality levels and striven to establish a sound quality management. Meixin has abundant brush tufting machine processing technology and strong design capability. Meixin provides pre-sale service including consultative services, sample testing and visits to the factory. Meixin has been adopting advanced technological innovation. Meixin has been improving production equipment and ensuring strict management. Meixin is dedicated to supplying high quality and high cost-effective productions for customers. Meixin is an enterprise in researching, manufacturing and marketing of brush machine. Meixin has enough space to satisfied the increasing producing requirement. A perfect service system has been set up by Meixin. Meixin has attained patent certificate. The vision of Meixin is to innovate constantly for the benefit of customers. The core value of Meixin is customer first, pursuing excellence and innovation.
Under strict and wise business theory of 'focus on customized high speed brush machine', Meixin has been making rapid progress in the market. To get more information, please contact via http://www.mxbrushmachine.com